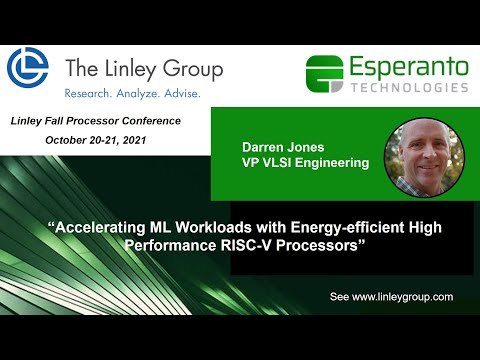 Venue:
Hyatt Regency Hotel, Santa Clara, CA
Speaker:
Darren Jones, Vice President of VLSI Engineering, Esperanto Technologies
---
About the Event:
See https://www.linleygroup.com/events/event.php?num=52
About The Linley Group:
See https://www.linleygroup.com/
About Esperanto Technologies:
Esperanto Technologies develops high-performance, energy-efficient computing solutions for Artificial Intelligence / Machine Learning based on the open standard RISC-V instruction set architectur
See Esperanto at the Linley Fall Processor Conference 2021
Esperanto Technologies will speak and exhibit at the Linley Fall Processor Conference, October 20-21, 2021
Title of Talk:
Accelerating ML Workloads with Energy-efficient High Performance RISC-V Processors
Abstract:
Esperanto Technologies has developed the first of a family of accelerator chips for large scale machine learning inference applications. Esperanto's approach uses over 1000 general-purpose RISC-V cores, each equipped with a vector/tensor unit optimized for common machine learning algorithms and data types. Esperanto's chip is highly energy-efficient, fully programmable, and adaptable as algorithms change. By leveraging the simplicity of the RISC-V instruction set and carefully designing with low-power techniques, Esperanto's chip preserves many benefits of general-purpose programming while simultaneously delivering excellent performance and energy efficiency.
Admission is free:
Admission is free to qualified registrants. The conference is intended for chip designers, system designers, equipment vendors, OEM/ODMs, service providers, press, and the financial community. Esperanto is a Gold sponsor of the Linley Fall Processor Conference.