Meet with Esperanto at CES 2023
Esperanto will attend CES 2023 and is advance scheduling customer meetings.
CES® is the most influential tech event in the world — the proving ground for breakthrough technologies and global innovators. This is where the world's biggest brands do business and meet new partners, and the sharpest innovators hit the stage.
CES will be held Jan 5-8, 2023 in Las Vegas, NV, and also online.
Learn more about Esperanto Technologies!
Request a meeting with Esperanto Technology experts here: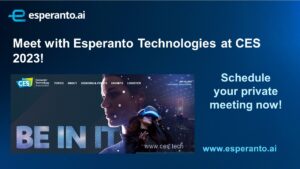 About CES 2023
For more conference information, see https://www.ces.tech/