Esperanto at Samsung SAFE 2022
Hear Art Swift of Esperanto at the Samsung SAFE™ Forum 2022
Art Swift, President and CEO of Esperanto Technologies, will participate in a panel: "How is Today's Foundry Ecosystem a Catalyst for Tomorrow's Innovative Startups?" at the Samsung Advanced Foundry Ecosystem (SAFE) Forum on October 4, 2022.
The Samsung SAFE Forum is October 4, 2022 in San Jose, CA.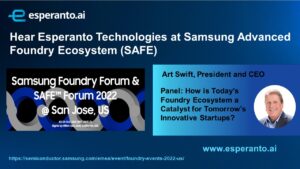 About SAFE 2022
For more conference information, https://semiconductor.samsung.com/emea/event/foundry-events-2022-us/
Update: 
Missed the Samsung SAFE Forum 2022? Registrants can now watch online.
See the panel "How Ecosystem Enables the Next Level of Innovation in HPC, HIT and Chiplets" with Art Swift of Esperanto Technologies here: https://semiconductor.samsung.com/us/event/safe-forum-2022/