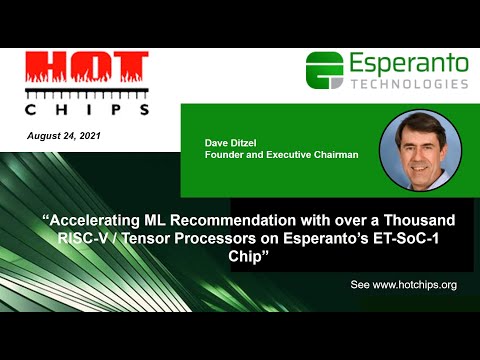 About Hot Chips 2021:
See https://www.hotchips.org/
About Esperanto Technologies:
Esperanto Technologies™ develops high-performance, energy-efficient computing solutions for Artificial Intelligence / Machine Learning based on the open standard RISC-V instruction set architecture. Esperanto is headquartered in Mountain View, California with engineering sites in Portland, Oregon, Barcelona, Spain, and Belgrade, Serbia. For more information, please visit https://www.esperanto.ai/
Dave Ditzel addresses Accelerating Machine Learning at Hot Chips 33
Hear Dave Ditzel on "Accelerating ML Recommendation with over a Thousand RISC-V/Tensor Processors on Esperanto's ET-SoC-1 Chip"
MOUNTAIN VIEW, Calif., August 1, 2021 – See Esperanto Technologies, developer of high-performance, energy-efficient computing solutions based on RISC-V for Artificial Intelligence (AI), Machine Learning (ML) and Deep Learning (DL) applications, at Hot Chips 33. Dave Ditzel, Chairman and Founder of Esperanto, will speak on accelerating machine learning at Hot Chips in August, 2021.
Presentation: "Accelerating ML Recommendation with over a Thousand RISC-V / Tensor Processors on Esperanto's ET-SoC-1 Chip"
When: August 24, 2021 at 8:30AM.
Where: Virtual event, online.
Agenda: https://www.hotchips.org/advance-program/
Abstract:
Esperanto Technologies has developed an accelerator chip for large scale machine learning inference applications. While many chips for accelerating machine learning have been proposed and built, they often also have various limitations. Some implement solutions highly tailored for convolutional neural networks (CNNs) and other algorithms with fixed-function hardware such as systolic array multipliers but suffer with other ML tasks that don't exactly match their hardware implemented algorithms. Some only work when the data fits entirely in on-die memory, making them not very suitable for ML recommendation server applications that can require many gigabytes of memory.
Esperanto has taken a different approach, using a large number of general-purpose RISC-V cores, each equipped with a vector/tensor unit optimized for common machine learning algorithms and data types. Esperanto's chip is highly efficient, fully programmable, and adaptable as algorithms change. By leveraging the simplicity of the RISC-V instruction set and carefully designing with low-power techniques, Esperanto's chip preserves many benefits of general-purpose programming while simultaneously maintaining excellent energy efficiency.
Esperanto's low-power design allows multiple ET-SoC-1 chips to be placed on a single PCI Express card delivering many times the throughput of legacy x86, GPU and FPGA solutions, while staying within the power limits of a single accelerator card.
You can download the slides here: Hot Chips Slides 2021